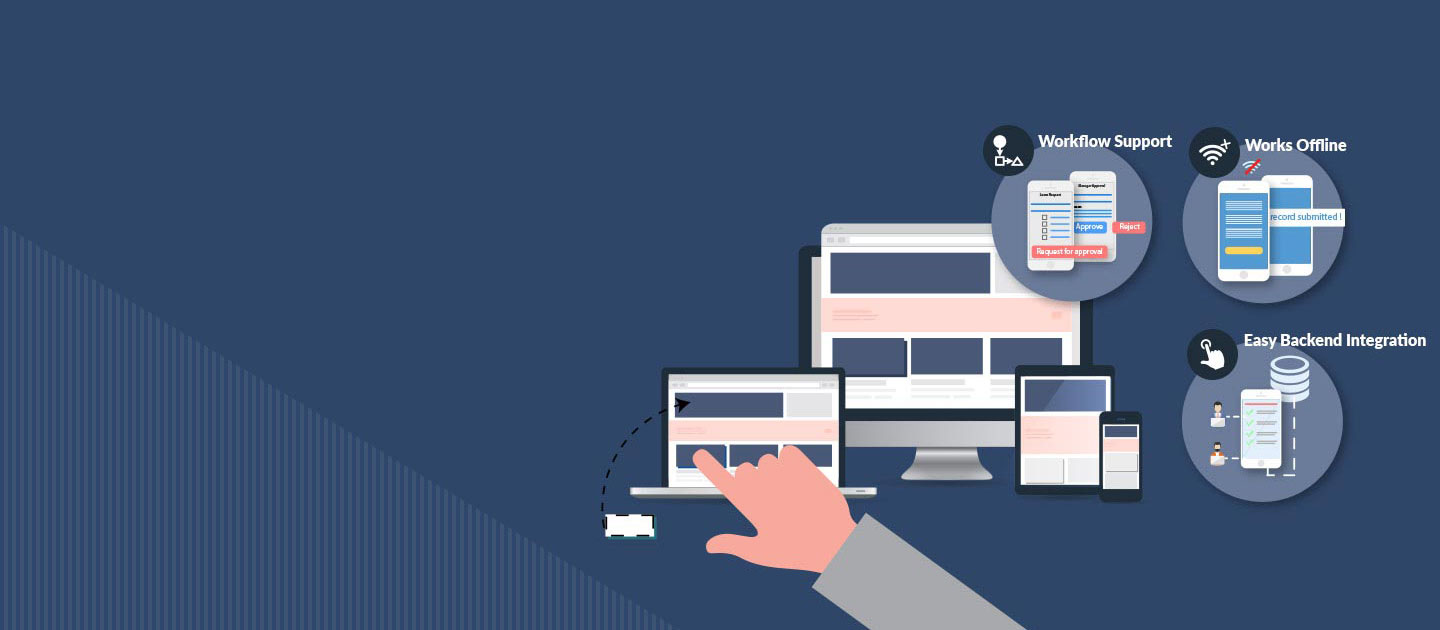 Go Paperless in Minutes
Streebo Mobile Forms lets you build and deploy multi-channel,
hybrid forms in minutes! With an ease of just drag and drop,
mobilize business forms and empower your workforce
Mobile Forms for every applicability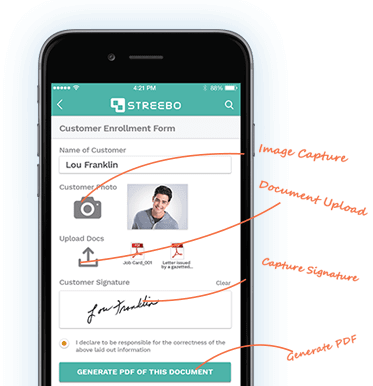 Customer Enrollment Forms
From customer service reps handling customer registrations to insurance agents enrolling clients to event managers handling event sign-ups, Streebo Mobile Forms can help your organization in onboarding customers seamlessly


Capture Signature: Use e-signature facility for collecting signatures of customer
Document Upload: Collect all customer documents through mobile forms to eliminate need for emails or physical documentation.
Image Capture: Take an image of the customer at his residence itself as well as capture his identity proof to ensure Photo ID identification
PDF Generation & Email: Share the enrollment document with customer in PDF format post approval from the app itself

Audit & Inspection Forms
From plant inspectors checking equipment to store managers inspecting merchandise to field technicians auditing machinery, Streebo Mobile Forms can help your organization perform all your auditing activities on the field itself


Image Annotation: Point out the problem area by capturing an image and circling the suspect area
Geo-location tagging: Capture the exact coordinates of faulty machinery in huge manufacturing plants to save time in locating the issue
Barcode Reader: Use the barcode scanning on products to pull information from the backend so that inspector can compare existing state with permitted limits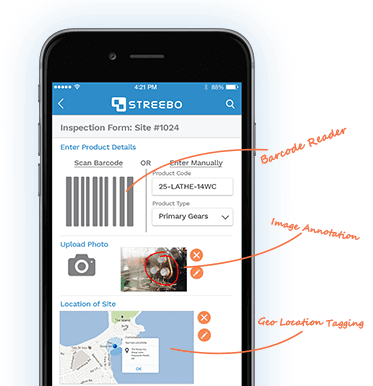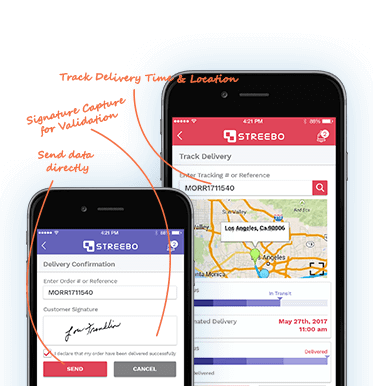 Field Data Capture Forms
From field workers doing plant inspections to fleet companies managing shipment deliveries to service technicians handling customer complaints, Streebo Mobile Forms can help your organization to capture field data accurately and store all the data in your existing back-ends.


Track Delivery Time & Location: Use geo-tagging and time-stamp facilities to ensure accurate deliveries
Signature Capture for Validation: Use e-signature for customers, managers or inspectors to sign off collected information
Eliminate Transport Time & Cost: Send data directly from the field eliminating waiting time so that business can make decisions more rapidly while reducing cost

Self – Service Forms
From employee leave requests to expense claims to food ordering forms in restaurants and room service forms in hospitality, Streebo Mobile Forms can mobilize a lot of manual or paper based process and in turn reduce manual errors and increase efficiency.


Increase Productivity with Offline Support: Employees can fill in transactional work during their commute home so that they can use their office time for more productive tasks
Workflow Support: All the data collected can be routed to concerned departments and entire approval flow can be handled with this solution.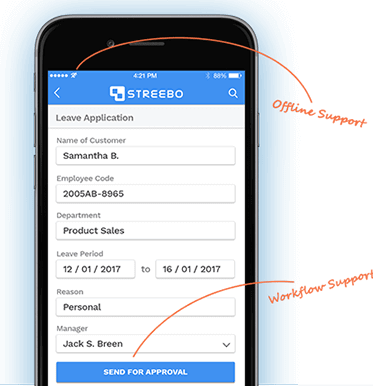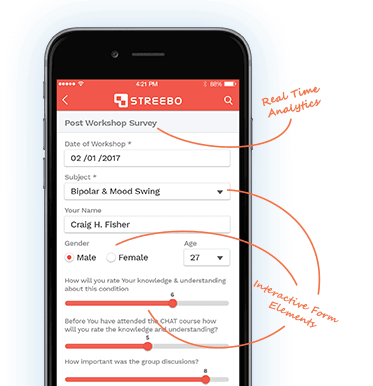 Feedback and Survey Forms
From traveler feedback forms for the transport industry to visitor satisfaction surveys in the hospitality industry to user survey forms for marketing managers, Streebo Mobile Forms can help you collect all the customer feedback at a single place.


Omnichannel Solution: Share the same form with constituents on web portals, tablets or mobiles
Real-time Analytics: Collect customer feedback in real time, slice and dice this data to capture actionable insights
Interactive Form Builder: Design forms with sliders and reflexive fields so that form will change depending on the input values