While working with a wide variety of customers in the past 5 years, we have observed that many industries are form intensive and are still relying on paper forms or spreadsheets to collect vital customer or employee information. Whenever a new product is launched or regulations change, then these forms have to be created again or customized according to the product manager's needs. The product manager has to then reach out to his IT team and get this form created or modified which takes a lot of time.
How easy would it be if there was a simple form creation tool which could automate this form creation process to help you roll out complex forms in a couple of hours?
Streebo's Mobile Forms is exactly the tool that solves this problem. With a minimalistic drag and drop form builder interface, Streebo Mobile Forms is very intuitive and simple form creation tool which minimizes effort. Non-technical users can now build forms from scratch and get their form up and running within minutes.  Streebo Mobile Forms has some breakthrough features which makes
Creating forms simple by dragging and dropping form elements
Integrating signatures, image capture, barcode scanning, video/audio capture and GPS tracking simple
Creating and managing workflows as well as managing information flow and user actions management easy
Creating nested data in the forms possible, thus allowing addition or removal of form fields as and when necessary
Incorporation of basic validation rules quite easy in your forms ensuring mandatory fields and data formatting rules are followed
Managing role-based permissions and limiting information view to employees or customers easy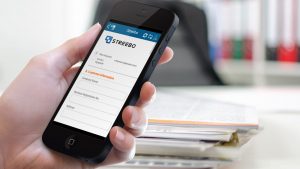 With a single click of a button, this form can be replicated on all devices – browsers, tablets and smartphones. This makes it easier for IT or Line of Business to create omnichannel forms faster, completely removing the need for repeated coding.
Usually, these forms are part of a larger ecosystem and data collected from these forms needs to be stored in your enterprise content management systems for further analysis, reporting and approvals. Streebo Mobile Forms has strong integration capabilities with your existing back-end systems – SAP, SalesForce, SharePoint, Office 365 and many more. Embedding a mobile form into your existing mobile application is also very easy.
Streebo Mobile Forms helps you create forms which can help you save time on data entry and make your data collection smarter. If you are dealing with a lot of forms in your everyday work and looking for a smarter and faster way to collect data and make decisions, look no further than Streebo Mobile Forms!
Check out the feature rich mobile forms solution.
For more information, contact us