Grow your business with Chatbot – Businesses today are being able to stay available not just 24×7, but 25×7 because of the chatbots that are embedded in their website; in their Facebook page; in their apps, ensuring that the business never sleeps. Also, the reason you are here suggests either or both of two things: A. you have heard about chatbots and are exploring, trying to learn more and gather more. Or, you already know about chatbots and are looking for chatbot integration with WordPress website or Facebook messenger.

​​​Chatbots have become popular, especially among B2C businesses like e-commerce. It's a fact that human touch cannot be replaced, a chatbot can, however, be available all the time and cater to users' inquiries with relevant answers. In this process, a chatbot relieves a human representative off the manual and repetitive process.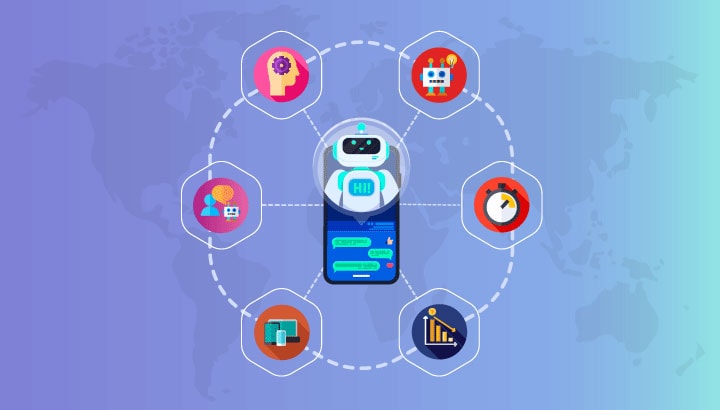 Chatbot integration with WordPress
In a study done by Juniper, it has been predicted that by 2023 $112 billion worth of e-commerce transactions will be done via chatbot.

WordPress is no doubt one of the most popular CMS or Content Management System. In a survey done by a popular hosting company, it was found that over 39% of all online stores run on WooCommerce (an open-source, e-commerce plugin for WordPress).

To keep your business abreast with the latest market trends and to stay top of the curve, having a chatbot integrated in your WordPress website is the next logical that one should have in plans for 2019 website upgrades.

Need for chatbot: Staying ahead of the market trend curve
95% of visitors do not make the purchase the first time they come to your website. However, they do have queries that needs to be addressed. Answers to their queries as well as the time taken to answer them could be a good way to keep their interest in your brand and convert them to buying from your website. This boils down to the time taken and the quality of responses that addresses their queries.

Additionally, below are the three more reasons that advocates the need for a chatbot.

1. Conversational medium: With the increasing usage of messaging app, it's a no-brainer that customer most-loved medium is a chat window. Interacting with your users and would-be customers through a conversational medium could create a strong connection between your website and them.

2. Trained and automated: Chatbots are trained as well as automated to learn from your customer and adapt to their queries. It enables your users to go through their queries and questions in matter of minutes.

3. Cost and time-effective: Training and deploying a chatbot can be done in one day. On the other hand, training a human resource can be costly as well as time-bound and human reps cannot be available 24×7.

Let's now explore the ideal features that a chatbot should possess.

Ideal features of Chatbot

1. Emotionally intelligent: For a chatbot to deliver a personalized experience, it is important that the chatbot to infer the personality traits, statement/voice tone and, above all, understand the sentiment of the user. Basis the need, chatbot can either continue chatting with the user or could escalate it to the live human agent.

2. Autonomous reasoning: Chatbot should be able to infer solutions with its independent logical reasoning without the need of human intervention. For example, a bot based on the case history of the users should be able to provide with solutions to the new users.

3. Think design, think experience: The chatbot should not be chatty rather should give an experience to the user. One of the ways is to ensure that the messages are drafted and designed that doesn't bore users making them lose interest. The chatbot should be train to avoid the tl;dr effect – too long; didn't read effect.

4. Omnichannel: A chatbot shouldn't be just available 24×7 but be available on all mediums, too (web, mobile, etc.). An omnichannel chatbot can ensure this instance without the need of extra coding and maintenance.

5. Conversational maturity: The best chatbots should be able to proactively seek information along with having advanced conversational ability. It should also be capable of asking clarifying questions during a non-linear conversation.

Human + Chatbot = A great customer service
In most cases, business and its employees are under the impression that chatbots would be replacing the human agents. However, that is not the case. Human reps are necessary, too. These chatbot agents could, in fact, be used as a filter and can provide with vital data of the users for the human reps who can then, pursue leads with personalized services, enabling happier customers, in turn triggering higher sales.

IBM Watson Assistant and WordPress plugin
Watson Assistant is IBM's answer for the chatbot integration with WordPress websites. IBM has devised a plugin that greatly simplifies the deployment process. All one needs to do is: Install the plugin > Specify the credentials > Specify desired workspace and that's it. Here is a tutorial published by IBM on integrating Watson Assistant with WordPress.

Streebo's role
Streebo is an IBM Premier partner, our chatbot tool builder helps the business to build a chatbot with the ease of drag-and-drop. Streebo Chatbot builder uses IBM Watson Assistant as the NLP engine helping drive smarter conversations through the bots. Contact us for chatbot integration with WordPress website using IBM Watson Assistant.