Do chatbots have a place in the healthcare industry? Well yes definitely, but you must set reasonable expectations. A chatbot will not replace a doctor or a caregiver. However, from the business perspective, a chatbot will help healthcare facilities reduce the time invested in talking to patients, profiling patient information and scheduling appointments for the patients, in a conversational format.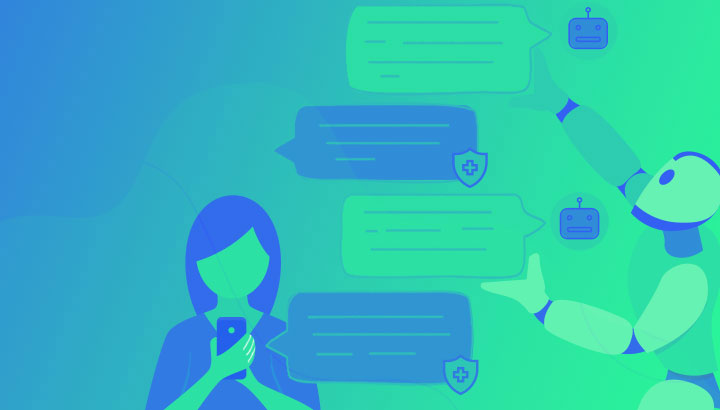 Consider this – you go to a healthcare facility app and a chatbot pops up.Now see how the conversation goes.

Bot : Hi I am Thomas, your healthcare assistant at Blooms hospital!

Bot : What can I do for you today?

Patient : I have a sore throat and runny nose

Bot : Have you checked the temperature?

Patient : Yes 108 F

Bot : Do you experience a headache and body pain?

Patient : Yes

Bot : I see that your temperature is above normal,and your symptoms also suggest that you should see a doctor.

Bot : Shall I book your appointment with the Doctor?

Patient : Yes

Bot : The Doctor is available today at 4 PM, is this time convenient for you?

Patient : Yes

Bot : I have scheduled your appointment, here are the details

(Details include the name of the doctor, Doctor's chamber number, and time of the appointment)

The bot also sends a notification to the doctor and updates his appointment calendar.

Additionally, the chatbot can also provide a detailed record of patient's previous ailments, visits, medications and bills. This saves a lot of paperwork and frees up workforce time.

As we saw in the conversation above, chatbots in healthcare compare the entries user makes with the knowledge base. The bot will match symptoms, note that the temperature is above normal, and will recommend the patient to meet the doctor. Now the patient does not have to call the receptionist and book an appointment. The bot has access to all the appointment slots. It recommends the best suitable slot and fixes an appointment as per the patient's convenience.
Here are some of the functions that a bot can handle:
• Provide prompt response to frequently asked questions
• Schedule appointments and basic consultation
• Manage patient records and medical history
• Provide patient records to doctors on demand
• Notify the patient for upcoming appointments or tests
• Attend to requests for admission, transfer, and discharge
• Notify patient care teams about any emergency

How does it affect your business?
Addressing a patient's concern is prompt, data retrieved and furnished is accurate. Unlike a human being, a chatbot will not make errors like booking two appointments in the same slot. This saves a lot of operational costs that in turn has a positive impact on profits. The healthcare facility becomes more efficient and can spare more time, workforce and efforts in patient care instead of paperwork and management.

How does it help patients?
An intelligent conversational ai bot will talk to the patient and understand their grievances. The bot gives satisfactory responses and provides any information that a patient needs accurately and promptly. Now this means that the patient does not have to go through the hassle of explaining his/her requirement again and again to a receptionist, and doctor. The chatbot keeps a record of all conversations, and the caregiver/doctor is updated accordingly. The experience for the patient while booking an appointment, getting prescriptions or being admitted to the hospital is pleasant. The patient always prefers to visit a clinic/hospital that gives prompt responses, hands-on assistance and takes utmost care of his/her wellbeing.
To know how you can deploy a chatbot on your hospital website, application and other social media platforms like Facebook Messenger and WhatsApp, contact us today!