Bots are transforming the digital world with every business looking to add chatbots as an additional communication channel. It's a third disruption I am observing in my tenure starting with the World Wide Web (www) craze in the late nighties to the rush for smartphone presence and mobile apps a few years back. And now it's chatbots. Gartner reports suggest that 80% of the business applications will have chatbot interfaces by 2020.
But announcing a chatbot just for the sake of it is not really going to serve the purpose.  End users/ Consumers are started getting used to smart bot experiences in their digital conversations and now expect more than just static guidance. Although chatbots came with a simple concept of virtual assistance with pre-loaded static FAQs, we have seen enormous progress over the past year and bots today are getting smarter and smarter day by day. Now we can do a lot more than just assisting users by helping them with location details or answering basic queries. Customers can now complete their transactions via chat as these bots come pre-integrated to their enterprise backends or payment gateways.
The real dilemma today for both businesses and IT is where to start with their chatbot implementation to gain maximum impact.  Having consulted numerous enterprises on their digital transformation projects, I have observed that rolling out chatbots for empowering users with meaningful information (Transactional FAQs) and allow them to perform basic transactions is the primary use case so far.
These transactional bots would be able to answer questions like:
What's my balance as of today?
When is my next premium due?
Pay my telephone bill
Book a return ticket from Delhi to Dubai from July 30th to Aug 7th
What's my leave balance?
These use cases typically show up on top in the usage analytics of existing digital assets and even in the support centre tickets. And it really makes lot of sense for any organization to empower their end customers or agency partners with useful information provided via chat.  Chatbots make a powerful case for driving adoption and increasing engagement with end users. We have become used to interacting with our friends and family via conversations and they seem a natural medium for us to interact with business too.  Moving your digital assets on chat would increase chance of adoption of these digital properties.
Streebo has recently introduced a low code no code Chatbot builder to quickly build and rollout chatbot interfaces on web, apps or 3rd party chat clients like Facebook Messenger and WhatsApp.  With a drag and drop interface, Streebo automation technology has inbuilt workflows, data validations, access permissions, access controls and a unique point and click integration interface for backend integrations with any RDBMS or any middleware or CRM or ERPs like SAP or Core Banking Systems through a REST or web services interface.
The best part is these Chatbot interfaces are technology agnostic and can be hooked up into any of the existing digital assets including web or mobile apps as virtual assistance for end users to complete transactions with textual or voice conversations.
How to Build Chatbot Using IBM Watson Assistant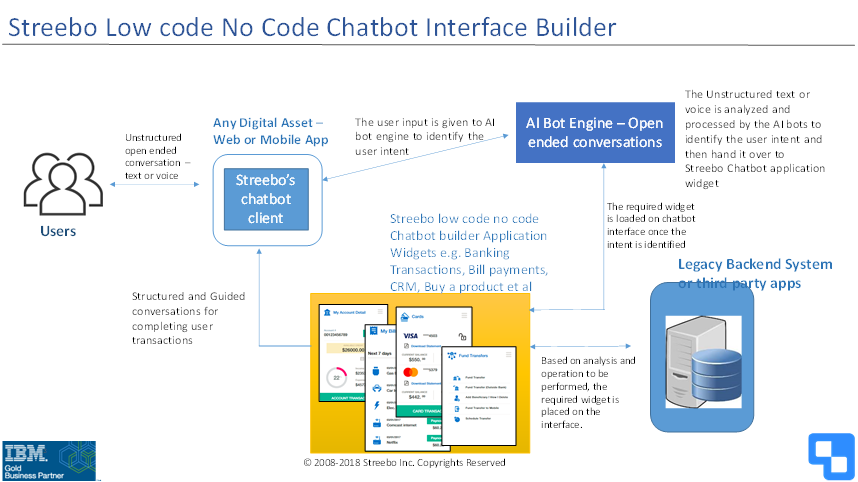 Streebo Chatbot Builder uses Watson Assistant to identify user intent. After identifying the user intent, Streebo's Chatbot interface takes over to process end user query, filled with all the inputs provided by the user in the conversation while also fetching relevant data from any backend. Streebo's low code no code chatbot & app builder is contributing in numerous enterprises transforming their enterprise digitally.