Enterprises and their CIOs face growing pressure to operate at digital speed. Expectations from customers, employees and vendors have left these enterprises facing increasing pressure to accelerate their development time and respond to their requirements, quickly!
In today's fast evolving 'digital' world, following is must:
Employees have access to the right information regardless of wherever they are and whichever device they use
Collaboration amongst the IT and Business users to respond to changing customer expectations
Meaningful customer interactions on web, social and mobile – In short – Omni-channel
Low code application development platforms are extremely crucial in meeting these demands. By allowing drag and drop OR visual composition over traditional coding, they let enterprises, quickly build and modify apps that, customers want. They remove the barriers between IT and Business, and support continuous collaboration and improvement.
Here are, some of the common characteristics / features of low OR no code application development platforms:
Drag-and-Drop Interfaces – With this, developers can create applications visually with an ease of just drag-and-drop the modules, features and functionalities. This would result in faster time-to-market.
Agile Development – With 'Build once, deploy everywhere' thought, these tools accelerate time to value by rapidly creating and deploying applications, then scale them over time. Low OR No-code development means you can modify apps, and release them as soon as functionality is built. Since change is so fast with low OR no-code development, agile digital transformation is made easier.
Cross-Platform and Omni-Channel – Nevertheless to mention, the applications should have cross-platform functionalities built within the design. Minor OR major changes, the platforms should facilitate the cross-platform deployment without any glitch!
Security and Scalability – Low or no-code development has had its own drawbacks, mainly when it comes to security and scalability. While initially, low-code development was focused on smaller deployments, today's low-code should be enterprise-grade. The right platform has all the necessary security certifications in place, and proven experience with large-scale deployments, as well.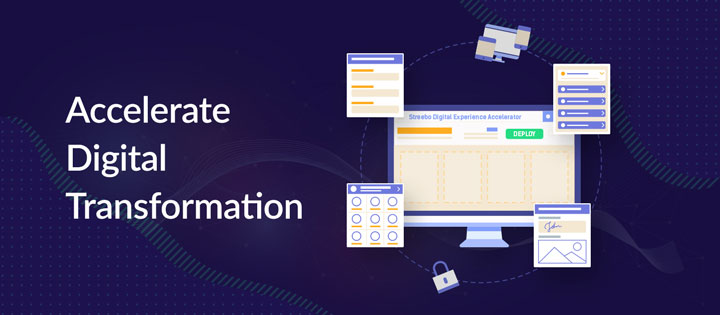 In a nutshell, Low OR No-code platforms can be a game-changer in the enterprises. Operating at digital speed means, rolling out apps that meet customer expectations – internal or external.  Accessing data, collaboration tools and apps should be equally viable on a smartphone OR a tablet as it is on a desktop PC.
Digital transformation is imperative for modern enterprises. Achieving it means business and IT must work together better – and faster – than ever before, and to facilitate all these, a modern, powerful, yet a business-friendly common platform is required.
Find out how we helped a large Credit Union / Society cut their development time by half and build cross-platform financial services apps with our Low OR No-Code tooling, DX Accelerator
You can find out more about Streebo Digital Experience Accelerator and Contact Us for your FREE TRIAL.