Employees are at the heart of any organization. Many employees harbor a feeling that the organization gives utmost importance to customers while essentially ignoring employee needs. It is time for organizations to place a huge value on employee satisfaction as only happy employees would be able to keep your customers happy. Many enterprises have started rolling out initiatives for employee engagement and enterprise digitization is one of the main goals of the HR management today. Equipping your employees with intranets for improved collaboration, faster approvals, improved training is the first step, but that alone isn't enough.
What about those employees who are out on the field meeting customers all day? Would they be able to chat with their manager for some last-minute tips before an important meeting? Can they access the new product information based on a new requirement that the customer has asked for? What if they have an emergency at home and want to inform the HR and their manager immediately? Such scenarios would make it apparent that having your intranet on mobile is essential to empower your employees and keep them on top of their game.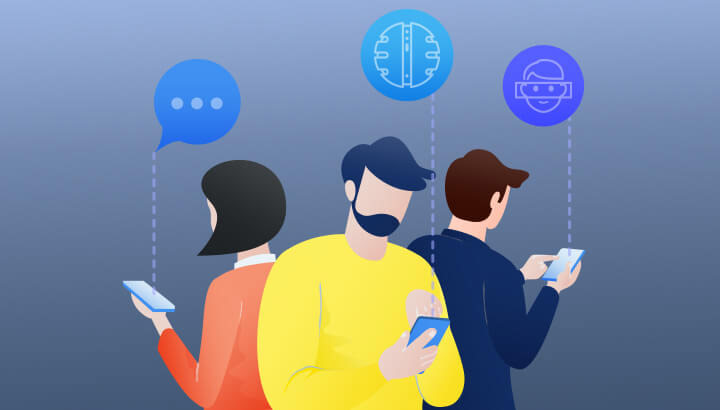 Smartphone usage is increasing all around the world, making everyone highly connected yet enterprises are behind the curve in adopting mobility. If you don't reach your customers or employees on the platform they spend the maximum time on, your chances of getting any solution adopted are minimal. Hence, its imperative for Enterprises to invest in Mobile Intranet Apps. With a highly distributed workforce, employees are no longer based in the same office and mobile intranets are key to bridging the information gap between your internal employees and field personnel. A Fortune report in 2015 had noted that 75% employees didn't get information about policy changes, new goals and enough information from top management. If enterprises don't invest in mobile intranets, this information gap is going to widen further.
There are many tangible benefits of investing in a mobile intranet strategy:
Employee Connectivity 24×7
Does a lot of internal communication, brand guidelines, new company policies get lost in emails? Employees miss out on a lot of key information as they are busy during work hours and don't get time to go back to these mails. A mobile intranet would ensure that employees have quick, easy access to company information when they are free. Employees can now log-in from anywhere and stay updated or take actions on important tasks.
Increased Intranet Adoption
Are you struggling with the adoption of your Intranet? With intranet now available at their fingertips and addition of social features like chats, wikis and forums, a mobile intranet app will keep the employees interested and drive adoption of your intranet.
Drive Employee Productivity
Mobile intranets can help in faster information dissemination, thus keeping employees up to date and connected. Communication gap ca be avoided, thus driving employee productivity at large. Meetings, group discussions etc. can be handled on smartphones, saving a lot of in person time.
Improved Customer Service
You must have read negative reviews for products online. What if the customer care executive could log in to their internal forum and immediately give appropriate response to customer. With faster response rates, customer retention would increase, and it would lead to satisfied customers.
So, are you looking to Mobilize your Workplace?
Streebo Social Experience Suite is the ultimate solution for your mobile intranet app needs. Streebo provides a cross platform, cross device mobile intranet app for connecting employees and providing them numerous self-service options. With intuitive UI/UX & offline support, this mobile intranet solution can be easily modified, and new modules can be embedded using a low code app builder.
So, what are you waiting for? Get a Personalized Demo Now today.