In early 2018, IBM's Form Experience Builder was sold to HCL. The new product by HCL is now known as HCL Leap.
Why do you think HCL bought FEB?
Don't you think HCL would have seen some breakthrough potential in the product? Why would they buy it otherwise at a high cost? As reports suggest HCL has invested in the development and growth of the product by seeing its potential growth. The focus HCL has in mind is providing customer value.
Why do you need to migrate FEB to HCL Leap?
If we talk about products in general once you use a product for too long you will always find glitches and would like to upgrade the product. Also, with changing times the customer demand changes along with updates on the technology front. HCL found out those missing points in the product FEB which is used by millions of enterprises worldwide and developed a product which solved all the glitches and had new gen features. With the product that HCL offers the existing FEB customers can migrate to HCL leap version 9.0.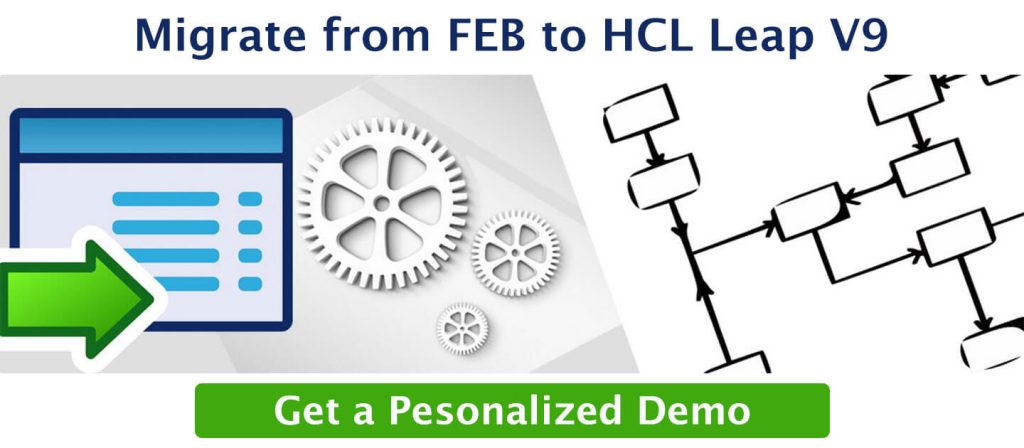 HCL Leap Features:
Easy edits & Quick Updates
Workflow Control
Secure Access Controls
Mobile Friendly
Simple Integrations
Customizable
Business Benefits from HCL Leap
Manufacturing
Site Evaluations
Requirement Collection & Approval
Quality Surveys
Finance
Updating policies
Portfolio Analysis
Customer Care
Healthcare
Patient Recordings
Patient Registration
Member Services
Travel
Customer Requests
Tracking
Help Desk
Cross-Industry
Sales & Marketing
HR processes
Administration processes
Customer engagement and satisfaction
Along with the above-mentioned business processes there are many more processes that can be transformed by migrating to HCL Leap. You can migrate from FEB to HCL Leap v9 without hampering your current business process but can upgrade many more routine processes. This in turn can increase your enterprises productivity and efficiency.
So, what are you waiting for? Want to migrate your Forms Experience Builder (FEB) to HCL Leap v9?
You can get in touch with Streebo for any of your migration projects. Streebo helps you migrate seamlessly from one version to another as well as full migration from one product to another without any hiccups. Get in touch for a Demo: https://www.streebo.com/aboutus/contactus