It is hard to believe that Apple, Google & Microsoft opened their app stores less than a decade ago, and now, more than 6.3 million apps are present in these app stores as per a recent report from Statista. In 2016, mobile internet users have exceeded half the world's population. With increasing smartphone usage, the technology being used to build Mobile or Web apps is also evolving rapidly. One can easily witness how the customer experience and app usability has significantly improved over the past decade.
Some of the key factors driving usage of mobile applications are
Ease of mobile access and straightforward to carry around
Application can be installed or removed quickly as per requirement
Technology and hardware used in mobile applications is very powerful
Mobile applications are easier to develop and can be modified easily
While surfing app stores, one comes across mobile apps for numerous industries like Banking, Insurance, Retail, Utility or Manufacturing etc. Mobile Apps have become imperative to improve employee productivity and drive customer engagement, irrespective of the industry. Some industries like Aerospace, Agriculture, Chemicals, Pharmaceuticals still lag significantly in terms of embracing mobility.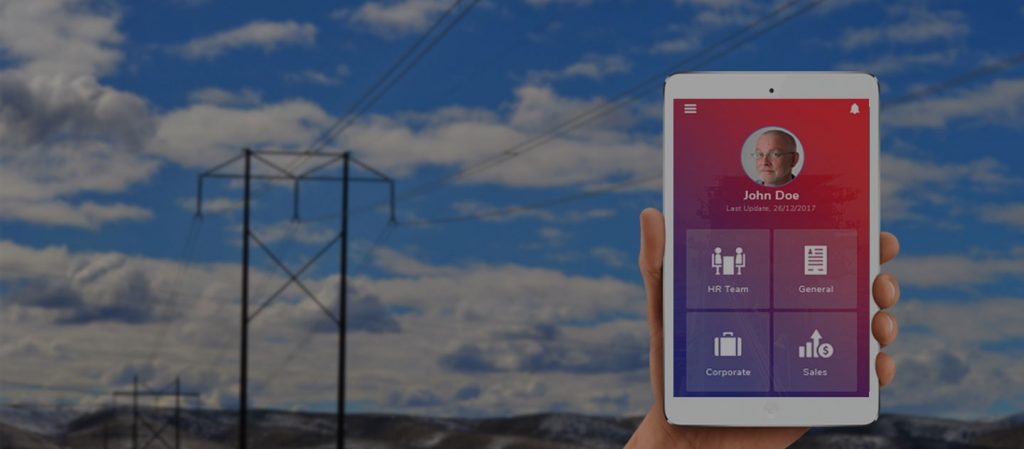 Mobility in Utilities Sector
The Utilities industry has lot of enterprises proving electricity, gas, water and transport to consumers. The response time to customer complaints is a huge factor in improving the revenue share of enterprises dealing in this sector. Technicians, service personnel, auditors need to have the right tools and product information at their fingertips to ensure that customer queries and routine hygiene checks are found clean.
Fixing faulty machinery or installing a new electric line would be much easier if there are steps to be followed or FAQs on a smartphone for the service personnel to refer to. Operators working on the field or in control room need quick information about the faulty parts or products where quick action is required. If information doesn't reach them on time, it could be a huge loss to the company, both financially and reputation-wise.
A mobile application for the field personnel in a utilities organization can help them:
Conduct Routine Inspections
Get Real-time updates of faults on their daily routes
Request new products during maintenance
Update Status of current complaints
Collect Customer Feedback
Get trained or ask questions when stuck
Mobile apps are not limited for internal employee usage alone, even customer interactions can be moved to mobile devices. Enterprises providing power, water or other utilities to citizens can build their "customer self-service application" for customers to pay bills, view usage information or get information on outages or raise complains. Regular updates mean that customers would be engaged, and customer retention would increase.
Challenges in App Building & Maintenance for Utility Sector:
Regular changes in standards or product specifications mean that app would need to be regularly updated
Content Management and updates should be easy for LoBs to handle
App rollouts should be less time consuming
Single Code base for websites and apps makes app management easier
Offline support, as there can be connectivity issues while working on field
Mobile Sensors like Barcode reader and Geo- tagging is still a challenge to develop
All these challenges can be easily tackled with the core competencies of Streebo. With Streebo Mobile Forms, it is very easy for IT Managers of utility organizations to build and roll out "Omni-channel Applications". Streebo Mobile Forms is your one-stop solution to streamline business processes in a short duration and at low cost, thus removing all bottlenecks from the current system within short duration and helping build cost-efficient applications. Get in touch: https://www.streebo.com/mobile-app-development/mobile-forms