The first experience of a customer with your brand, is the – customer onboarding process. A hassle-free, efficient and frictionless customer onboarding process will set the stage for customer gratification and retention. Hence the best way to embrace digital transformation, is to start by digitizing your onboarding process.
Here are some things that you must consider, as you go from a paper based to paperless process.
Omni-Channel Mobile Forms:  Customer onboarding app works best when it is omni channel. This means, that it is possible for your customer/agent to fill onboarding information using any device (desktop/laptop/mobile/tablet).
Offline Mobile Forms Support: Picture this: your feet on street personal or agent visits a customer in a remote village where there is no internet. In another case the FOS personnel is onboarding a customer, he has filled most of the information in the form, and then loses internet connection. What will happen in this scenario? Can you afford to lose a customer because of internet issues?  It is a definite NO. So, the solution is to ensure that your mobile forms work in an offline mode. When internet is not available, the collected data must get stored to the device, and then get transferred to the database – once the connection revives.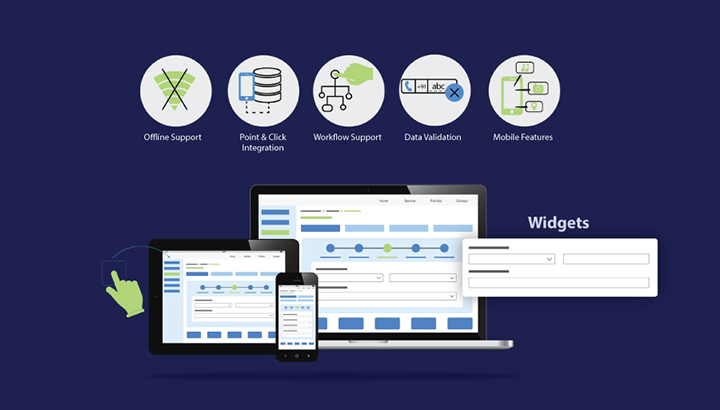 Quick Information Collation: Think about it! Does your customer onboarding only involve filling information in the form of text? No – you may need customer information like – a photograph, Aadhar card number, digital signature, biometrics, iris scanning, to name a few. So, the mobile form app that you deploy should allow you to easily capture, collate and process all this information.
Verification On The Go: Once you collect the customer data, a proper verification and validation process should happen. Adding this to the process flow eliminates the possibility of errors and allows a frictionless onboarding process.
Role Based Access: Why do you need a role-based access? Because, a) you do not want customer information to be easily available to everyone and b) you do not want to bring down productivity by bombarding your staff with irrelevant information. An administrator sets controls for team members so that they can access only relevant information.
Security: Customer is the most valued asset, and there is no way you want to risk customer information theft. The customer onboarding process may include money collection, and hence a solution that not just encrypts and protects customer information, but also enables a secure payment process is of prime importance.
Once you know what you want in your eKYC mobile data collection app, you will have to find a partner who can develop an app that promises all the above and more. Streebo – an IBM partner, is the best choice. Streebo Mobile Forms is a solution that bundles a wide range of benefits like omnichannel and cross platform compatibility, workflow support, offline data collation, easy backend integration and more, on the highly secure IBM platform. Get a demo and free 30-day mobile form trial.